Conditions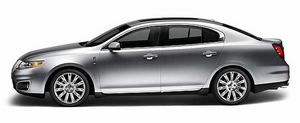 Х Heavily loading a vehicle may reduce fuel economy at any speed.
Х Carrying unnecessary weight may reduce fuel economy (approximately 1 mpg [0.4 km/L] is lost for every 400 lb [180 kg] of weight carried).
Х Adding certain accessories to your vehicle (for example; bug deflectors, rollbars/light bars, running boards, ski/luggage racks) may reduce fuel economy.
Х Using fuel blended with alcohol may lower fuel economy.
Х Fuel economy may decrease with lower temperatures during the first 8Ц10 miles (12Ц16 km) of driving.
Х Driving on flat terrain offers improved fuel economy as compared to driving on hilly terrain.
Х Transmissions give their best fuel economy when operated in the top cruise gear and with steady pressure on the gas pedal.
Х Close windows for high speed driving.
See also:
Push button start system
Your vehicle is equipped with the push button start system. You can start your vehicle by pressing the start button in combination with the brake pedal rather than using a key. The start bu ...
Multi-point Inspection
In order to keep your vehicle running right, it is important to have the systems on your vehicle checked regularly. This can help identify potential issues and prevent major problems. Ford Motor C ...
Child restraint and safety belt maintenance
Inspect the vehicle safety belts and child safety seat systems periodically to make sure they work properly and are not damaged. Inspect the vehicle and child seat safety belts to make sure there ...