Changing the air filter element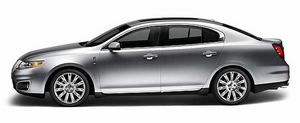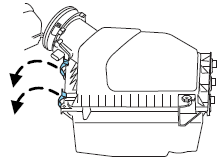 1. Release the clamps that secure the air filter housing cover.
2. Carefully separate the two halves of the air filter housing.
3. Remove the air filter element from the air filter housing.
4. Wipe the air filter housing and cover clean to remove any dirt or debris and to ensure good sealing.
5. Install a new air filter element. Be careful not to crimp the filter element edges between the air filter housing and cover. This could cause filter damage and allow unfiltered air to enter the engine if not properly seated.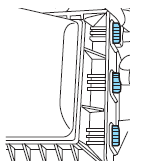 6. Replace the air filter housing cover and secure the clamps. Be sure that the air cleaner cover tabs are engaged into the slots of the air cleaner housing.
Note: Failure to use the correct air filter element may result in severe engine damage. The customer warranty may be void for any damage to the engine if the correct air filter element is not used.
See also:
Perchlorate material
Certain components of this vehicle such as airbag modules, seat belt pretensioners, and button cell batteries may contain Perchlorate Material – Special handling may apply for service or vehicle e ...
Instrument panel/interior trim and cluster lens
Clean the instrument panel, interior trim areas and cluster lens with a clean, damp, white cotton cloth, then use a clean and dry white cotton cloth to dry these areas. • Avoid cleaners or polish ...
Auxiliary power point (12v dc)
Power outlets are designed for accessory plugs only. Do not insert any other object in the power outlet as this will damage the outlet and blow the fuse. Do not hang any type of accessory or acc ...