New chassis technology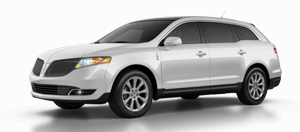 Making a full-size crossover ride smoothly but handle well can be a real challenge.
"The 2013 MKT with Continuously Controlled Damping delivers a surprisingly vibrant blend of ride and handling. It's more than you'd expect from a full-size, three-row luxury crossover," said Scott Tobin, Director, Lincoln Product Development.
Continuously Controlled Damping (CCD) is fitted to the new Lincoln MKT when the crossover is equipped with the optional 3.5-liter EcoBoost V6 engine. The adjustable suspension enables a more confident driving experience that defines the Lincoln DNA balance of ride comfort and handling. Regardless of road conditions, drivers will enjoy a markedly smoother, more controlled ride because CCD is always tuning and refining the ride quality.
The fully integrated system delivers its on-road benefit by significantly expanding the chassis's capabilities compared to a chassis with nonadjustable struts and shock absorbers, known as dampers by chassis engineers.