MyLincoln just the start for technology-packed 2011 Lincoln MKX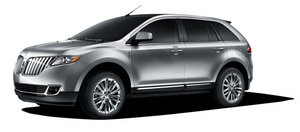 The industry-first MyLincoln Touch experience, powered by Lincoln SYNC®, replaces traditional vehicle buttons, knobs and gauges with clear, crisp LCD screens and five-way buttons like those found on cell phones and MP3 players. The screens can be personalized to display information relevant to each individual driver using a simple button click, voice command or touch screen tap.
The electronic finish panel on the 2011 Lincoln MKX demonstrates all the advantages of this touch-sensitive technology in a beautiful, engaging package. Activated features display amber light. When turned off, signature Lincoln White lighting is displayed.
In addition to the usual audio and climate control features, the touch-sensitive technology also operates the volume and fan controls, which is exclusive to Lincoln.
Customers can swipe their fingers along the slider to adjust the volume. The slider features 10 distinct touchpoints; three full swipes bring the system to maximum volume. Customers also can touch anywhere along the slider to get a corresponding increase or decrease in volume.
The fan control is operated in a similar fashion. On both the volume control and the fan control, the distinctive Lincoln White lighting acts as a chaser.
See also:
The Inside
I'm not a fan of all-gray interiors, which seem drab to me — even more so than all-black designs — but that's what our MKZ had. Getting past my own preferences, however, let me appreciate a cabin ...
Reaking-in your vehicle
Your vehicle does not need an extensive break-in. Try not to drive continuously at the same speed for the first 1,000 miles (1,600 km) of new vehicle operation. Vary your speed frequently in order ...
Message center
Your vehicle's message center allows you to configure/personalize certain vehicle options to suit your needs. The message center is also capable of monitoring many vehicle systems and will aler ...