Replacing license plate lamp bulbs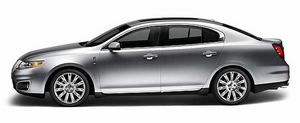 1. Make sure the headlamp switch is in the off position.
2. Remove the screws from the license plate lamp assembly.
3. Remove bulb socket by turning it counterclockwise.
4. Carefully pull the bulb out from the socket.
Install new bulb(s) in reverse order.
See also:
Hitches
Do not use a hitch that clamps onto the vehicle's bumper; use a load-carrying hitch. You must distribute the load in your trailer so that 10–15% of the total weight of the trailer is on the tongue ...
Child restraint and safety belt maintenance
Inspect the vehicle safety belts and child safety seat systems periodically to make sure they work properly and are not damaged. Inspect the vehicle and child seat safety belts to make sure there ...
Tire pressure monitoring system (tpms)
WARNING: The tire pressure monitoring system is NOT a substitute for manually checking tire pressure. The tire pressure should be checked periodically (at least monthly) using a tire gauge, see ...