Lincoln MKX in the Market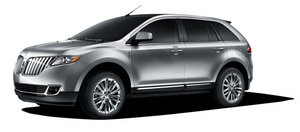 A worthy competitor to Acura and Lexus is a welcome thing for car shoppers. More options and selection mean better odds of finding the right vehicle for you. Besides the wonky multimedia system in the MKX, there isn't anything to turn off prospective buyers.
The positives outweigh the negatives by leaps and bounds, and I even like the styling. But after living with the MKX, I just couldn't get excited about it. It was a gut reaction, even as my brain told me how great it was. I suspect the features and pleasing ride, though, will win over many shoppers' tentative guts.
See also:
Understanding the gearshift positions of the 6–speed automatictransmission
Your vehicle has been designed to improve fuel economy by reducing fuel usage while coasting or decelerating. When you take your foot off the accelerator pedal and the vehicle begins to slow down, ...
Adding engine coolant
When adding coolant, make sure it is a 50/50 mixture of engine coolant and distilled water. Add the mixture to the coolant reservoir, when the engine is cool, until the appropriate fill level is o ...
2010 Lincoln MKT
While I wasn't crazy about its rear angle, the MKT looked great from the front. It has a huge, aggressive grille that works well with the crossover's size. It looks unique — in a good way. The M ...