Looks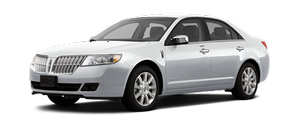 Even though the MKS is a comfortable car with a refined interior and a lot of standard features, the first thing people will notice is its bold looks. The profile is vanilla bland, but both the snarling front end and the Maserati-influenced rear will turn heads and make people say, "That's a Lincoln?"
While I was testing this car, I had people stop me to ask if I was driving a new Cadillac. Another passerby knew it was a Lincoln and was impressed, again comparing it to Cadillac's latest CTS in a favorable way.
You can't escape the huge grille up front no matter how hard you try; the chrome-covered plastic grille is indeed the new "look" for Lincoln. It's doubtless the product of an ever-escalating grille war that's pitting automakers against one another in an attempt to design the largest, most in-your-face bumper-jewelry imaginable.
The MKS kind of reminds me of the Cheshire Cat from "Alice in Wonderland" Ч a comparison I'm not the first to mention; I won't be the last, either. Regardless, it's distinctive without going too over the top, unlike the new Cadillac CTS and its excessively blinged-out grille.
The back end hasn't received nearly as much attention in the press as the front has, but if you put it side by side with Maserati's Quattroporte sedan, you'll see where its inspiration lies. Considering the exterior dimensions of the MKS, its two ends work well together to complement the sedan's sheer size. It comes in at 204.1 inches long, which is longer than a Buick Lucerne and even many three-row crossovers. Basically, this new look will lead to new shoppers, without the whippersnapper in the Lincoln lineup turning off the older set.
See also:
Conditions
Х Heavily loading a vehicle may reduce fuel economy at any speed. Х Carrying unnecessary weight may reduce fuel economy (approximately 1 mpg [0.4 km/L] is lost for every 400 lb [180 kg] of weight c ...
The Inside
I'm not a fan of all-gray interiors, which seem drab to me Ч even more so than all-black designs Ч but that's what our MKZ had. Getting past my own preferences, however, let me appreciate a cabin ...
INTERIOR
The MKZ Hybrid's interior is where it really shines. Not literally; it literally shines on the outside with all that chrome. On the inside there's a little shine but mostly some luxury-type touche ...