2010 Lincoln MKS Review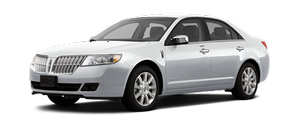 Lincoln is a brand adrift in the automotive marketplace. Few of its models set themselves apart from lesser-equipped Fords, and those that do usually fall short of the competition from Lexus, Infiniti and Cadillac. The all-new MKS is the closest the brand has come to delivering a top-class vehicle, and it gives sedan shoppers a reason to enter a Lincoln showroom.
There are a number of areas where the MKS excels, including its spacious interior, sleek looks, technology features and overall value. Its biggest drawback is that it doesn't ride like any big Lincoln sedan we've driven recently, which means the word "cushy" will not come into play for the rest of this review. That may turn off loyal buyers, without a significant-enough performance benefit added to draw in enthusiasts.
Overall, though, the positives vastly outweigh the negatives in what is possibly the best Lincoln since the Mark VIII.
See also:
Choosing the right fuel
Use only UNLEADED fuel or UNLEADED fuel blended with a maximum of 10% ethanol. Do not use fuel ethanol (E85), diesel, methanol, leaded fuel or any other fuel. The use of leaded fuel is prohibited ...
Hilly condition usage
It is recommended that the driver select a lower gear position when ACC is active in situations such as prolonged downhill driving on steep grades (i.e., driving in mountainous areas). In these si ...
Turning off speed control
To turn off the speed control, press OFF or turn off the ignition. Note: When you turn off the speed control or the ignition, your speed control set speed memory is erased. ...