Technology and Features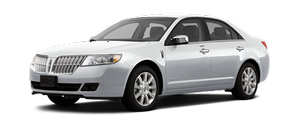 Besides the looks, impressive steering and comfortable seating, the other thing the MKS has going for it is an intuitive, feature-packed technology center. Unfortunately, the attractive base price of the MKS shoots up $2,995 with the Navigation Package you need to add in order to get most of the high-tech goodies.
Microsoft's Sync entertainment system comes standard and controls audio and cell phone applications, but the voice-activated feature controls much more when the navigation system is present. How much more? Well, you get voice-activated navigation and directions, like you'll find in Acuras and Infinitis, only the MKS' is a bit more intuitive. You also get local gas prices, movie times, weather and traffic info, all with voice commands.
I've tested the standard Sync system many times since it debuted last year and have found it to be one of the simplest, most useful technology features on the market. The simple approach continues when you add these other features to it, and that's a good thing. Hit a button on the steering wheel and say "weather," and the screen displays your local forecast. Say "traffic" and — guess what? You get an update on road construction in your area. Say "movie times" and a number of theaters are listed to choose from. The same goes for gas prices. All are useful to most drivers, though movie times are a bit superfluous.
On top of that, the screen is brilliantly crisp with easy-to-read graphics, and there are plenty of plain-old buttons to manage features not controlled by voice or to use as shortcuts when you're tired of talking to your car.
Add the Technology Package ($1,115) and you get add-ons like a rear-window sunshade, keyless entry and ignition, rain-sensing wipers, forward sensors that warn of obstacles when parking, and adaptive headlights.
The Ultimate Package ($5,715) combines the features in the Technology and Navigation packages, plus adds a dual-panel moonroof (sold separately for $1,695) and 19-inch wheels ($510 as a stand-alone option). I did the math; that saves you $600 compared to adding them a la carte. However, if I could drop one package it would be the Technology Package, with its features that don't add to the driving experience. Also, no buyer should feel sorry for opting out of the dual-panel moonroof and 19-inch wheels. For my money, the only must is the Navigation Package.
Trunk
Why is there a whole separate section for the trunk? Because big American sedans should have big trunks, and at 18.7 cubic feet the MKS' is quite big. It's bigger than a Lucerne's (17.0) or S80's (14.9). It could easily swallow two sets of golf clubs and copious amounts of luggage.
See also:
Important safety precautions
WARNING: Do not overfill the fuel tank. The pressure in an overfilled tank may cause leakage and lead to fuel spray and fire. WARNING: The fuel system may be under pressure. If you hear a hissing ...
Performance
The most striking aspect of the MKS' performance is its steering. From the looks and the sheer size of the car, I was expecting a driving experience akin to yachting, not carving corners. I was wr ...
Cross traffic alert (CTA) system operation
The CTA system warns the driver of approaching vehicles when R (Reverse) is selected and the vehicle is backing out of a front-in parking spot. It sounds a series of tones and flashes the BLIS ind ...