Driving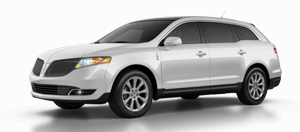 Equipped with an optional EcoBoost turbocharged V-6 engine and all-wheel drive, the MKT hustles through town and carves up interstates like a sushi chef does tuna. It's a thrilling experience, mainly because you're piloting a vehicle that you could accurately call a boat. At 207.6 inches long, it's huge; it might not fit in your garage. It doesn't feel nimble on the road, meaning it doesn't take corners easily — you have to take the long wheelbase into account — but all that power comes on perfectly, without any turbo lag.
See also:
Steering
The Lincoln MKS steering system received a thorough makeover for 2013. The gear ratio is quicker (15:1 for 2013 vs. 17.1:1 for today's MKS), making the steering more immediately responsive at all sp ...
Owner Checks and Services
Certain basic maintenance checks and inspections should be performed by the owner or a service technician at the intervals indicated. Service information and supporting specifications are provided ...
When Inflating Your Tires
When putting air into your tires (such as at a gas station or in your garage), the tire pressure monitoring system may not respond immediately to the air added to your tires. It may take up to tw ...