Driving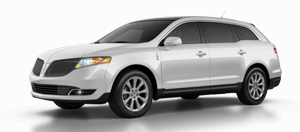 Equipped with an optional EcoBoost turbocharged V-6 engine and all-wheel drive, the MKT hustles through town and carves up interstates like a sushi chef does tuna. It's a thrilling experience, mainly because you're piloting a vehicle that you could accurately call a boat. At 207.6 inches long, it's huge; it might not fit in your garage. It doesn't feel nimble on the road, meaning it doesn't take corners easily Ч you have to take the long wheelbase into account Ч but all that power comes on perfectly, without any turbo lag.
See also:
Perimeter alarm system
The perimeter alarm system will warn you in case of unauthorized entry to your vehicle. When the following types of unauthorized entry occur: Х any door, the hood or the liftgate/trunk is open ...
Choosing the right fuel
Use only UNLEADED fuel or UNLEADED fuel blended with a maximum of 10% ethanol. Do not use fuel ethanol (E85), diesel, methanol, leaded fuel or any other fuel. The use of leaded fuel is prohibited ...
Personal safety systemЩ
The Personal Safety System provides an improved overall level of frontal crash protection to front seat occupants and is designed to help further reduce the risk of airbag-related injuries. The sy ...