Driving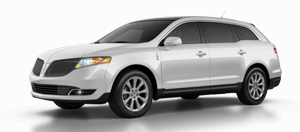 Equipped with an optional EcoBoost turbocharged V-6 engine and all-wheel drive, the MKT hustles through town and carves up interstates like a sushi chef does tuna. It's a thrilling experience, mainly because you're piloting a vehicle that you could accurately call a boat. At 207.6 inches long, it's huge; it might not fit in your garage. It doesn't feel nimble on the road, meaning it doesn't take corners easily — you have to take the long wheelbase into account — but all that power comes on perfectly, without any turbo lag.
See also:
Push button start system
Your vehicle is equipped with the push button start system. You can start your vehicle by pressing the start button in combination with the brake pedal rather than using a key. The start bu ...
Driving on snow and ice
Note: Excessive tire slippage can cause transmission damage. AWD vehicles have advantages over 2WD vehicles in snow and ice but can skid like any other vehicle. Should you start to slide while dri ...
System warnings
System warnings alert you to possible problems or malfunctions in your vehicle's operating systems. In the event of a multiple warning situation, the message center will cycle the display to show ...