2012 Lincoln MKT Review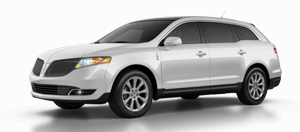 The MKT is an impressive combination of performance, utility, technology and even affordability among its competition — and I want one in my driveway.
When I reviewed the MKT when it debuted for 2010, I was smitten with the massive, pseudo-luxury people-hauler. Sure, its looks are beyond polarizing. Considering I'm one of the only Cars.com editors who likes the styling, I'd say you have a one in 10 chance of finding someone of a similar mind. Good luck getting your spouse to sign up.
Not much about the MKT has changed for 2011, but that's typical just a year after a new car debuts. To check out the few changes, go here.
See also:
Sounding a panic alarm
Press to activate the alarm. The horn will sound and the turn lamps will flash for a maximum of three minutes. Press again or turn the ignition on to deactivate, or wait for the alarm to time o ...
Speed control (if equipped)
With speed control set, you can maintain a set speed without keeping your foot on the accelerator pedal. WARNING: Do not use the speed control in heavy traffic or on roads that are winding, slipp ...
Ignition modes
1. Off — This position shuts the engine and all electrical accessories off. Press and release the START/STOP button without applying the brake pedal when your vehicle is in on mode or when the en ...