INTERIOR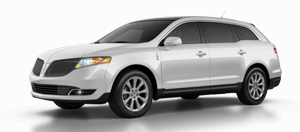 The MKT has plenty of luxury features, but there were so many that I felt like I had feature fatigue. I got tired of struggling with them. The first feature to confound me was the driver's seat that slid back automatically whenever the car was turned off. I know this is a feature to help me get in and out of the MKT easily, but it slid too far back, making it difficult for me to start the car when I got back in. To start the car I had to depress the brake pedal, but I couldn't reach it. I had to scoot far forward on the front seat, press the brake pedal and the ignition button, and then wait for the seat to come up to meet me. That's a lot of unnecessary effort to start a car.
The MKT has Lincoln's Sync system; it was frustrating for me to set up, but cool once my husband and I figured it out. I got out all the brochures that were supposed to walk me through the process to connect my cell phone to Sync. For some reason, it didn't work for me. Then my husband says, "Let me try." Tap, tap, tap. "Weird, it's connecting the device through the aux jack, but we have to go through the Bluetooth command on the screen first." Then I zoned out, but I tuned back in when he said, "Oh, there we go." Instantly the music on my iPhone starts streaming via Bluetooth. Every time I got back in the MKT the song picked up from where it left off, leaving me nothing to do but rock out.
There are cupholders in the second row, but they're on the back of the front row's center console. This works for kids in booster seats and older, but kids in convertible seats won't be able to reach the cupholders. The second row also has footrests that look like little ramps, but they'll only work for teens or adults who can reach them.
For kids who want to ride in the third row, there's a lot of manual unfolding and refolding of the second-row seats to get back there. Yes, there's a switch on the passenger's side to automatically fold that seat forward, but it doesn't return the seat back to its original position. Villainous MKT, you tease us parents mercilessly! After awhile my kids just climbed over the second row to the third row instead of waiting for me to mess with the seats.
The third row has a 50/50-split folding bench that my kids found comfortable. When I sat back there the legroom was tight, but not nightmarish. Would an adult want to sit back there for a cross-country road trip? No. But it might work for a short jaunt to the mountains with my gal pals.
See also:
Location of the tire label
You will find a Tire Label containing tire inflation pressure by tire size and other important information located on the B-Pillar or the edge of the driver's door. Refer to the payload descriptio ...
Inflating your tires
Safe operation of your vehicle requires that your tires are properly inflated. Remember that a tire can lose up to half of its air pressure without appearing flat. Every day before you drive, che ...
Information contained on the tire sidewall
Both U.S. and Canada Federal regulations require tire manufacturers to place standardized information on the sidewall of all tires. This information identifies and describes the fundamental charac ...