The Bling Factor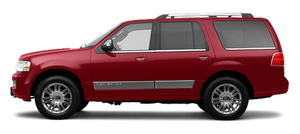 The dumbest question an automotive journalist could pose in regard to the new Lincoln Navigator would be, "What do you notice first when looking at it?" Duh! It might as well be called the Blingmobile, as my wife and I nicknamed it, thanks to its giant, diamond-cut chrome grille. Wait a second, is that chrome? Nope; chrome is very expensive these days and is rarely used on new cars and trucks. The grille is actually painted plastic, and when you get up close you can tell it isn't substantial. It sure looks real from far away, though, and will look that way to the people and drivers you pass on the street.
Personally, I liked the old blade-like grille on the previous Navigator and thought it could have been enlarged and chromed for the 2007 version, much like the Lincoln Mark LT's. That's enough virtual ink devoted to the grille, I think, and at least the headlights are well-integrated into the otherwise busy design. Take a walk around the rest of the Navigator and you'll wonder why it's so busy up front when from every other angle the design is incredibly subtle. My black test vehicle was the perfect color, and I couldn't really fathom anyone going for anything else — though I saw one in purple recently, and certainly that would not go unnoticed.
See also:
Mud and water
If you must drive through high water, drive slowly. Traction or brake capability may be limited. When driving through water, determine the depth; avoid water higher than the bottom of the wheel r ...
Erasing personal code
1. Enter the factory set 5–digit code. 2. Within five seconds, press the 1 • 2 on the keypad and release. 3. Press and hold the 1 • 2 for two seconds. This must be done within five seconds of comp ...
Export unique (Non–United States/Canada) vehiclespecific information
For your particular global region, your vehicle may be equipped with features and options that are different from the features and options that are described in this Owner's Guide. A market unique ...