Lincoln MKT in the Market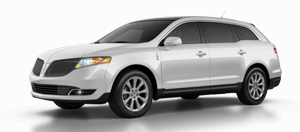 Sometimes the luster fades off an all-new model when you revisit it a year later. Newer designs come along to woo you, and often the love you once felt for it just doesn't seem as alluring. And sometimes it does.
I'm glad the MKT returned to my clutches for 2011, because I still love this ungainly looking crossover. I also, however, am a realist who understands that the world doesn't always share my tastes.
See also:
Overview
Lincoln introduced its first hybrid - the new 2011 Lincoln MKZ Hybrid - a premium midsize car poised to be the most fuel-efficient luxury sedan in America. Ford Motor Company - America's largest d ...
Changing the wiper blades
1. Pull the wiper arm away from the vehicle. Turn the blade at an angle from the wiper arm. Press the lock tab to release the blade and pull the wiper blade down toward the windshield to r ...
Front passenger sensing system
The front passenger sensing system is designed to meet the regulatory requirements of Federal Motor Vehicle Safety Standard (FMVSS) 208 and is designed to disable (will not inflate) the front pass ...