Lincoln MKT in the Market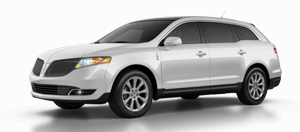 Sometimes the luster fades off an all-new model when you revisit it a year later. Newer designs come along to woo you, and often the love you once felt for it just doesn't seem as alluring. And sometimes it does.
I'm glad the MKT returned to my clutches for 2011, because I still love this ungainly looking crossover. I also, however, am a realist who understands that the world doesn't always share my tastes.
See also:
If your vehicle gets stuck
If your vehicle gets stuck in mud or snow it may be rocked out by shifting between forward and reverse gears, stopping between shifts, in a steady pattern. Press lightly on the accelerator in each ...
Replacing stop/tail/turn and side marker bulbs
Your vehicle is equipped with a rear lamp that has a stop/tail/turn and side marker lamp module containing integral multiple light emitting diodes (LED). If one or more LEDs burn out, the complete ...
Changing the tires
If you get a flat tire while driving, do not apply the brake heavily. Instead, gradually decrease your speed. Hold the steering wheel firmly and slowly move to a safe place on the side of the road. ...