Efficient six-speed transmissions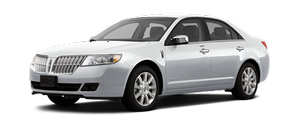 The 2013 Lincoln MKS is equipped with two versions of the six-speed SelectShift Automatic™ transmission, both with steering-wheel-mounted paddle shifters. The 3.7-liter Ti-VCT V6 uses the 6F-50. The more powerful 3.5-liter EcoBoost uses the heavy-duty 6F-55 which benefits from high-energy friction materials, a larger ring gear and a specific torque converter to handle the high torque output of the twin-turbo V6.
These gearboxes offer Lincoln MKS drivers the choice of fully automatic operation or manual control. Intuitive to operate, a squeeze back on either paddle will deliver an upshift, while a gentle push forward on either paddle will induce a matched-rev downshift. Unlike some competitor transmissions, SelectShift won't second guess the driver with an override shift. The manual function is truly controlled by the driver.
See also:
Auto high-beam headlamps
Auto high-beam headlamps also use the windshield-mounted camera to monitor traffic conditions and control high-beam activation. In darkness, the high-beam headlamps automatically illuminate unless ...
Armrest pass-through
Pull down the door located in back of the armrest in order to store cargo of a longer length such as skis or lumber. Note: Do not exceed 80 lb (36 kg) of weight on the pass-through door. ...
Fun tuned in while noise is tuned out
A wealth of upgrades means the 2011 Lincoln MKX will provide a more connected feel between the driver and the road through responsive acceleration, engaging steering, spirited handling and confide ...