Efficient six-speed transmissions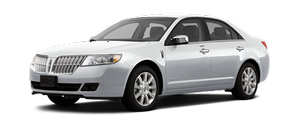 The 2013 Lincoln MKS is equipped with two versions of the six-speed SelectShift Automatic™ transmission, both with steering-wheel-mounted paddle shifters. The 3.7-liter Ti-VCT V6 uses the 6F-50. The more powerful 3.5-liter EcoBoost uses the heavy-duty 6F-55 which benefits from high-energy friction materials, a larger ring gear and a specific torque converter to handle the high torque output of the twin-turbo V6.
These gearboxes offer Lincoln MKS drivers the choice of fully automatic operation or manual control. Intuitive to operate, a squeeze back on either paddle will deliver an upshift, while a gentle push forward on either paddle will induce a matched-rev downshift. Unlike some competitor transmissions, SelectShift won't second guess the driver with an override shift. The manual function is truly controlled by the driver.
See also:
Message center
Your vehicle's message center allows you to configure/personalize certain vehicle options to suit your needs. The message center is also capable of monitoring many vehicle systems and will alert ...
Safety Compliance Certification Label
Safety Compliance Certification Label The National Highway Traffic Safety Administration Regulations require that a Safety Compliance Certification Label be affixed to a vehicle and prescri ...
Automatic search for parking space
To start, press the APA control switch (on the center console). The message center will display ACTIVE PARK SEARCHING. To designate what side of the street to search on, use the turn signal. ...