Replacing the battery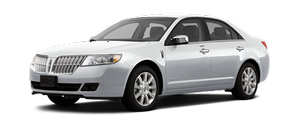 The intelligent access key (IA key) uses one coin type three-volt lithium battery CR2032 or equivalent.
To replace the battery:
1. Remove the backup key from the transmitter, then twist a thin coin in the slot hidden behind the backup key slot to remove the battery cover.
Note: Do not wipe off any grease on the battery terminals or on the back surface of the circuit board.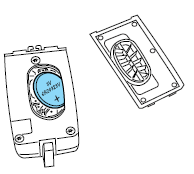 2. Remove the old battery.
Note: Please refer to local regulations when disposing of transmitter batteries.
3. Insert the new battery. Refer to the instructions inside the IA key for the correct orientation of the battery. Press the battery down to ensure that the battery is fully seated in the battery housing cavity.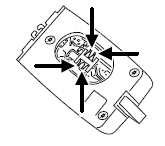 4. Snap the battery cover back onto the transmitter and install the backup key.
Note: Replacement of the battery will not cause the IA key to become de-programmed from your vehicle. They should operate normally after battery replacement.
See also:
Replacing stop/tail/turn and side marker bulbs
Your vehicle is equipped with a rear lamp that has a stop/tail/turn and side marker lamp module containing integral multiple light emitting diodes (LED). If one or more LEDs burn out, the complete ...
Trunk release
To open the trunk from inside the vehicle: Press the trunk release button located in the glove box. To open the trunk with the outside release button: 1. Unlock the trunk with the transmi ...
Hazard flasher control
The hazard flasher is located between the center air registers above the radio. The hazard flashers will operate whether the ignition is off or on. • Press the flasher control and all fro ...