Information on "T" type tires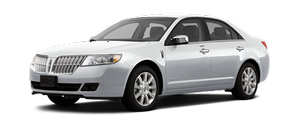 "T" type tires have some additional information beyond those of "P" type tires; these differences are described below:
T145/80D16 is an example of a tire size.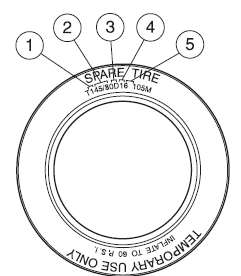 Note: The temporary tire size for your vehicle may be different from this example. Tire Quality Grades do not apply to this type of tire.
1. T: Indicates a type of tire, designated by the Tire and Rim Association (T&RA), that is intended for temporary service on cars, SUVs, minivans and light trucks.
2. 145: Indicates the nominal width of the tire in millimeters from sidewall edge to sidewall edge. In general, the larger the number, the wider the tire.
3. 80: Indicates the aspect ratio which gives the tire's ratio of height to width. Numbers of 70 or lower indicate a short sidewall.
4. D: Indicates a "diagonal" type tire.
R: Indicates a "radial" type tire.
5. 16: Indicates the wheel or rim diameter in inches. If you change your wheel size, you will have to purchase new tires to match the new wheel diameter.
See also:
Vehicle loading – with and without a trailer
This section will guide you in the proper loading of your vehicle and/or trailer, to keep your loaded vehicle weight within its design rating capability, with or without a trailer. Properly loadin ...
Automatic dimming feature
The driver's side view mirror has an auto-dimming function. For more information, refer to Automatic dimming interior rear view mirror in this chapter. ...
Ford esp extended service plans (U.S. only)
More than 32 million Ford and Lincoln owners have discovered the powerful protection of Ford ESP. It is the only extended service plan backed by Ford Motor Company, and provides "peace of mind" ...