Adaptive cruise control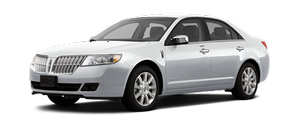 Collision warning is paired with adaptive cruise control (ACC) because both features use the forward-looking radar system. With a range of up to 600 feet, ACC monitors and adjusts vehicle speed to keep it at a safe distance behind another vehicle in the same lane, even in fog or heavy rain.
The sophisticated radar system and control module ignores stationary objects as it determines the closing rate toward the vehicle ahead to determine whether it is necessary to automatically adjust the engine throttle setting or engage the braking system. Able to work at just 20 mph, drivers can set the system to work during normal commuting, helping reduce driver fatigue.
See also:
Power door locks
• Press the control to unlock all doors. • Press the control to lock all doors. ...
Satellite radio information (if equipped)
Satellite radio channels: SIRIUS broadcasts a variety of music, news, sports, weather, traffic and entertainment satellite radio channels. For more information and a complete list of SIRIUS satell ...
How does the airbag supplemental restraint system work?
The airbag SRS is designed to activate when the vehicle sustains longitudinal deceleration sufficient to cause the sensors to close an electrical circuit that initiates airbag inflation. The ...