Electronic stability control (ESC)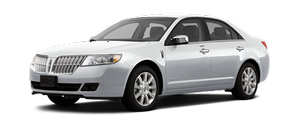 Electronic stability control (ESC) may enhance your vehicleТs directional stability during adverse maneuvers, for example when cornering severely or avoiding objects in the roadway. ESC operates by applying brakes to one or more of the wheels individually and, if necessary, reducing engine power if the system detects that the vehicle is about to skid or slide laterally.
During ESC events, the stability control light in the instrument cluster will flash.
Certain adverse driving maneuvers may activate the ESC system, which include but are not limited to:
Х Taking a turn too fast
Х Maneuvering quickly to avoid an accident, pedestrian or obstacle
Х Driving over a patch of ice or other slippery surfaces
Х Changing lanes on a snow-rutted road
Х Entering a snow-free road from a snow-covered side street, or vice versa
Х Entering a paved road from a gravel road, or vice versa
Х Cornering while towing a heavily loaded trailer (refer to Trailer towing in the Tires, Wheels and Loading chapter).
See also:
Driving on slippery surfaces with AWD vehicles
AWD vehicles are specially equipped for driving on sand, snow, mud and rough roads and have operating characteristics that are somewhat different from conventional vehicles, both on and off the hi ...
Tire Replacement Requirements
WARNING: Only use replacement tires and wheels that are the same size, load index, speed rating and type (such as P-metric versus LT-metric or all-season versus all-terrain) as those originally ...
Checking engine coolant
The concentration and level of engine coolant should be checked at the intervals listed in scheduled maintenance information. The coolant concentration should be maintained at 50/50 coolant and di ...