New styling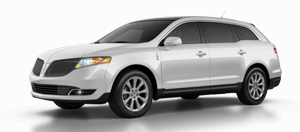 The changes ensure a recognizable Lincoln family look going forward. The grille and front fascia all are new, as are the wheel selections.
"The effort behind the new look was to change the proportion of the MKT from the front view. We helped make it feel wider and a bit less tall, less vertical," said Max Wolff, Lincoln Design director. "The execution of the new MKT's grille and the grille bars is a lot more refined and elegant. The new front graphic displays a lot of three-dimensionality, but it's accomplished in a calmer, more restrained way."
See also:
Adding engine coolant
When adding coolant, make sure it is a 50/50 mixture of engine coolant and distilled water. Add the mixture to the coolant reservoir, when the engine is cool, until the appropriate fill level is o ...
Windshield wipers
Windshield wiper: Rotate the end of the control away from you to increase the speed of the wipers; rotate towards you to decrease the speed of the wipers. Speed dependent wipers (if equip ...
Inflating your tires
Safe operation of your vehicle requires that your tires are properly inflated. Remember that a tire can lose up to half of its air pressure without appearing flat. Every day before you drive, c ...