All-wheel drive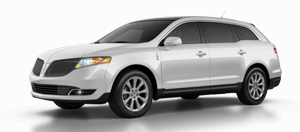 All-wheel drive is standard with the twin-turbo 3.5-liter V6. In good weather over smooth roads at modest speeds - when AWD is not needed - the system intelligently routes power only to the front wheels, improving fuel efficiency.
When driver input or road conditions indicate that slip might occur, the system sends power rearward to help prevent tire slip from happening in the first place (such as on rain-slicked or snow-covered roads).
A myriad of inputs enables the computer-controlled system to identify and immediately react - in as little as 16 milliseconds - to changing road conditions and driver demands. The amount of torque sent to the rear axle varies depending on road conditions and dynamic needs.
See also:
Lincoln drive control
"Lincoln Drive Control is where the magic happens because it pulls all of the car's adjustable elements - suspension, steering, engine, and gearbox - into one harmonized system," explains ...
Memory feature
The steering column positions are saved when doing a memory set function and can be recalled along with the vehicle personality features when a memory position is selected through the remote entry ...
Safety belt warning light and indicator chime
The safety belt warning light illuminates in the instrument cluster and a chime sounds to remind the occupants to fasten their safety belts. ...