All-wheel drive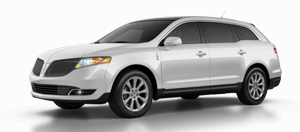 All-wheel drive is standard with the twin-turbo 3.5-liter V6. In good weather over smooth roads at modest speeds - when AWD is not needed - the system intelligently routes power only to the front wheels, improving fuel efficiency.
When driver input or road conditions indicate that slip might occur, the system sends power rearward to help prevent tire slip from happening in the first place (such as on rain-slicked or snow-covered roads).
A myriad of inputs enables the computer-controlled system to identify and immediately react - in as little as 16 milliseconds - to changing road conditions and driver demands. The amount of torque sent to the rear axle varies depending on road conditions and dynamic needs.
See also:
Battery
Your vehicle is equipped with a Motorcraft maintenance-free battery which normally does not require additional water during its life of service. Note: If your battery has a cover/shield, make ...
Turning off speed control
To turn off the speed control, press OFF or turn off the ignition. Note: When you turn off the speed control or the ignition, your speed control set speed memory is erased. ...
Battery saver
The battery saver will shut off the lamps 10 minutes after the ignition has been turned off. • If the dome lamps were turned on using the panel dimmer control, the battery saver will shut them ...