All-wheel drive (AWD) system (if equipped)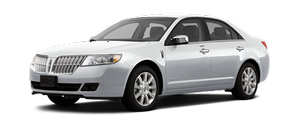 Your vehicle may be equipped with a full-time all-wheel drive (AWD) system. The AWD system is an active system, meaning it not only responds to wheel slip between the front and rear axles but also has the ability to anticipate wheel slip and transfer torque to the rear wheels before slip occurs. The AWD system is active all the time and requires no input from the operator.
All components of the AWD system are sealed for life and require no maintenance.
Note: When an AWD system fault is present, the warning CHECK AWD will display in the message center. The AWD system is not functioning correctly and defaulted to front-wheel drive. When this warning is displayed, have your vehicle serviced at an authorized dealer.
If your vehicle is equipped with AWD, a spare tire of a different size other than the tire provided should never be used. If the spare tire is installed, the AWD system may disable automatically and enter front-wheel drive only mode to protect driveline components. This condition may be indicated by an AWD OFF message in the message center (see Message center section in the Instrument Cluster chapter for more information). If there is an AWD OFF message in the message center from using the spare tire, this indicator should turn off after reinstalling the repaired or replaced normal road tire and driving a short distance. It is recommended to reinstall the repaired or replaced road tire as soon as possible. Major dissimilar tire sizes between the front and rear axles could cause the AWD system to stop functioning and default to front-wheel drive or damage the AWD system.
Note: The AWD OFF message may also be displayed in the message center if the AWD system has overheated and defaulted to front-wheel drive. This condition may occur if the vehicle was operated in extreme conditions with excessive wheel slip, such as deep sand. To resume normal AWD function as soon as possible, stop the vehicle in a safe location and allow it to idle. The AWD OFF message will turn off when the system cools and normal AWD function returns.
Note: Your AWD vehicle is not intended for off-road use. The AWD feature gives your vehicle some limited off-road capabilities in which driving surfaces are relatively level, obstruction-free and otherwise similar to normal on-road driving conditions. Operating your vehicle under other than those conditions could subject the vehicle to excessive stress which might result in damage which is not covered under your warranty.
See also:
Tire and wheel alignment
A bad jolt from hitting a curb or pothole can cause the front end of your vehicle to become misaligned or cause damage to your tires. If your vehicle seems to pull to one side when you're driving, ...
Engine
Engines are more efficient when they are clean because grease and dirt buildup keep the engine warmer than normal. When washing: • Take care when using a power washer to clean the engine. The hig ...
Programming spare keys
You can program your own integrated keyhead transmitters or standard SecuriLock coded keys to your vehicle. This procedure will program both the engine immobilizer key code and the remote entry tr ...