Programming a personal entry code and keypad association tomemory feature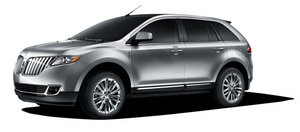 To create your own personal entry code:
1. Enter the factory set code.
2. Within five seconds press the 1 • 2 on the keypad.
3. Enter your personal 5-digit code. Each number must be entered within five seconds of each other.
4. For memory recall feature, enter the sixth digit 1 • 2 to store driver 1 settings or 3 • 4 to store driver 2 settings.
Note: Pressing 5 • 6, 7 • 8, or 9 • 0 keypad numbers as a sixth digit will not recall a driver memory setting.
Note: The factory-set code cannot be associated with a memory setting.
5. The doors will lock then unlock to confirm that your personal entry code has been programmed to the module.
You may also program a personal entry code through the MyFord Touch™ / MyLincoln Touch™ system (if equipped). Refer to the MyFord Touch™ / MyLincoln Touch™ supplement.
Tips:
• Do not set a code that uses five of the same number.
• Do not use five numbers in sequential order.
• The factory set code will work even if you have set your own personal code.
See also:
Service Data Recording
Service data recorders in your vehicle are capable of collecting and storing diagnostic information about your vehicle. This potentially includes information about the performance or status of var ...
Replacing HID headlamp bulbs
The headlamps on your vehicle use a "high intensity discharge" source. These lamps operate at a high voltage. When the bulb is burned out, the bulb assembly must be replaced by your authorized de ...
On-board diagnostics (OBD-II)
Your vehicle is equipped with a computer that monitors the engine's emission control system. This system is commonly known as the on-board diagnostics system (OBD-II). The OBD-II system protects t ...