Fuel pump shut-off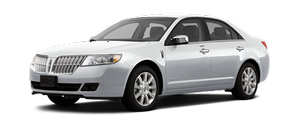 In the event of a moderate to severe collision, this vehicle is equipped with a fuel pump shut-off feature that stops the flow of fuel to the engine. Not every impact will cause a shut-off.
Note: If your vehicle has the push button start system, press the stop/start button twice to reactivate the fuel system.
Should your vehicle shut off after a collision due to this feature, you may restart your vehicle by doing the following:
1. Turn the ignition switch to the off position.
2. Turn the ignition switch to the on position.
In some instances the vehicle may not restart the first time you try to restart and may take one additional attempt.
WARNING: Failure to inspect and if necessary repair fuel leaks after a collision may increase the risk of fire and serious injury.
Ford Motor Company recommends that the fuel system be inspected by an authorized dealer after any collision.
See also:
The Bling Factor
The dumbest question an automotive journalist could pose in regard to the new Lincoln Navigator would be, "What do you notice first when looking at it?" Duh! It might as well be called t ...
What you should know about fail-safe cooling
If the engine coolant supply is depleted, this feature allows the vehicle to be driven temporarily before incremental component damage is incurred. The "fail-safe" distance depends on ambient tempe ...
Trailer towing
Trailer towing puts additional loads on your vehicle's engine, transmission, axle, brakes, tires and suspension. For your safety and to maximize vehicle performance, be sure to use the proper equi ...