Keyless entry keypad procedure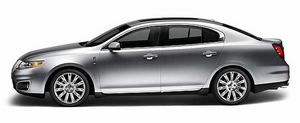 1. Turn the ignition to the off position.
2. Close all the doors.
3. Enter factory–set 5–digit entry code.
4. Press and hold the 3 • 4. While holding the 3 • 4, press and release the 7 • 8. While still holding the 3 • 4, press and release the 7 • 8 a second time.
5. Release the 3 • 4.
The user should receive a horn chirp to indicate the system has been disabled or a chirp followed by a honk to indicate the system has been enabled.
See also:
Retractable Panoramic Roof
The Retractable Panoramic Roof is a new signature feature for Lincoln. The 15.2-square-foot glass panel offers one of the largest openings available on any current sedan. The design maintains the ...
FCC and RSS-210 Industry Canada Compliance
This device complies with Part 15 of the FCC Rules and with RSS-210 of Industry Canada. Operation is subject to the following two conditions: (1) this device may not cause harmful interference, and ...
Intelligent access
Your intelligent access system uses a radio frequency (RF) signal to communicate with your vehicle and authorize your vehicle to unlock when commanded (either by touching the inside of the driver ...