Crafted, natural, comfortable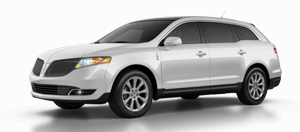 Standard 12-way adjustable front seats, adjustable pedals and power tilt/telescoping steering wheel help accommodate a wide range of drivers.
The leather surfaces for the first two rows of seating are provided by the Bridge of Weir leather company. Sourced from Scotland, Bridge of Weir leather can also be found in luxury jets, yachts and covering fine furniture.
The company uses a unique organic tanning method, which produces leather free of chromium - making it one of the most environmentally friendly and fully recyclable leathers available. French and Deck seams add to the interior's high level of finish.
The seat cushions, head restraints and seat backs are made with soy foam, which has a lower environmental impact than petroleum-based foams. In addition, the soy-based materials deliver excellent performance and offer equivalent comfort and durability.
The heated steering wheel is a welcome new option for drivers who live in colder climates. A thin metal element under the wheel's leather-wrapped rim can raise the rim's surface temperature from minus 4 degrees Fahrenheit (minus 20 degrees Celsius) to 74F (23C) in five minutes.
Because interior quietness is a universal luxury cue, the 2013 MKT is significantly quieter than the 2012 model. Additional noise barriers and absorbers were placed in the front wheel wells, around the shock towers, under the hood and in the trunk. The exterior mirrors also were redesigned to reduce wind noise.
See also:
Push button start system
Your vehicle is equipped with the push button start system. You can start your vehicle by pressing the start button in combination with the brake pedal rather than using a key. The start bu ...
Multi-function lever
Windshield wiper: Rotate the end of the control away from you to increase the speed of the wipers; rotate towards you to decrease the speed of the wipers. Rain sensing wipers: The rain se ...
What you should know about fail-safe cooling
If the engine coolant supply is depleted, this feature allows the vehicle to be driven temporarily before incremental component damage is incurred. The "fail-safe" distance depends on ambient tempe ...