Improved sync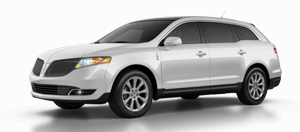 The next generation of the award-winning SYNC system continues to become easier to use and more robust in its operation. New, simpler screen designs improve the user interface. Larger and bolder fonts make screens easier to read. SYNC's voice recognition experience, powered by Nuance, also improves.
Microsoft's Windows Embedded Auto software platform continues to be the operating platform that will deliver faster response times. SYNC has evolved from a stand-alone module for communication and entertainment to become a fully integrated operating system for Lincoln vehicles with MyLincoln Touch.
As a further enhancement to the SYNC experience, the standard system in the 2013 Lincoln MKT provides Operator Assist as a standard SYNC Services feature, allowing users to connect with a live person free of charge.
SYNC also enables the interior of the Lincoln MKT to become a Wi-Fi hot spot when linked to a data-enabled cellular device. With active Wi-Fi, passengers can link to the Web on gaming systems, PDAs, tables and laptops.
See also:
Power distribution box
The power distribution box is located in the engine compartment. The power distribution box contains high-current fuses that protect your vehicle's main electrical systems from overloads. WARNING ...
Lincoln drive control
"Lincoln Drive Control is where the magic happens because it pulls all of the car's adjustable elements - suspension, steering, engine, and gearbox - into one harmonized system," explains ...
Genuine Ford Parts and Service
When planning your maintenance services, consider your dealership for all your vehicle's needs. There are a lot of reasons why visiting your dealership for all your service needs is a great way t ...