Adaptive cruise control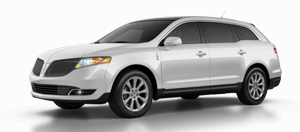 Adaptive cruise control (ACC) is paired with collision warning because both utilize the forward-looking radar system. With a range up to 600 feet, ACC monitors and adjusts the speed of the Lincoln MKT to keep it at a safe distance behind a lead vehicle in the same lane, even in fog or heavy rain.
The scanning radar unit and control module ignores stationary objects as it determines the closing rate toward the vehicle ahead to assess whether it is necessary to automatically adjust the engine throttle setting or engage the braking system.
With the capability to work at speeds as low as 20 mph, drivers can set the system to work during normal commuting, helping reduce driver fatigue. Three programmable system settings are accessed through MyLincoln Touch.
See also:
Fuel pump shut-off switch
This device stops the electric fuel pump from sending fuel to the engine when your vehicle has had a substantial jolt. After an accident, if the engine cranks but does not start, this switch may ...
When Your Temporary Spare Tire Is Installed
When one of your road tires needs to be replaced with the temporary spare, the TPMS will continue to identify an issue to remind you that the damaged road wheel/tire needs to be repaired and put b ...
Cleaner air
Ford endorses the use of reformulated "cleaner-burning" gasolines to improve air quality, per the recommendations in the Choosing the right fuel section. ...