First generation (1998Ц2002)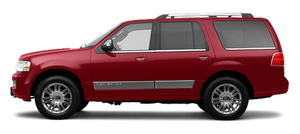 The 1998 Navigator introduced the concept of the American luxury SUV, competing at first with only the Land Rover Range Rover. It was trimmed with leather, wood, and fine carpeting, but its humble pickup truck roots could be easily spotted. This didn't slow sales, though, upon introduction of the Lincoln Navigator for the 1998 model year waiting lines for the Navigator formed. Competitors from Cadillac and GMC with the Denali Series quickly followed. Much like the Cadillac Escalade, the Navigator found a spot with celebrities and the customized truck scene.
Upgrades came just one year later with a more powerful DOHC InTech engine and power-operated pedals. More luxury features appeared in 2000, including a satellite navigation system and reverse sensing system as well as side impact airbags. No more major changes were made in 2001, and the Navigator was redesigned after 2002.
See also:
Overview
New, industry-exclusive technologies and engaging design featuring world-class craftsmanship and materials further elevate the 2011 Lincoln MKX midsize luxury crossover. Leading the wide-ranging ...
3.5L V6 EcoBoostЩ engine
1. Engine coolant reservoir 2. Brake fluid reservoir 3. Battery 4. Power distribution box 5. Air filter assembly 6. Automatic transmission fluid dipstick (out of view) 7. Engine oil dips ...
Real-time damping
Compared to the fixed-rate damper standard on the 2012 MKT, the CCD damper on the 2013 MKT offers dramatically expanded control range. CCD utilizes 46 inputs to feed data to a sophisticated control ...