Roof rack system (if equipped)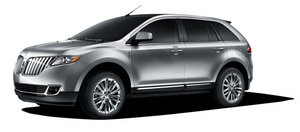 Loads should never be placed directly on the roof panel. For proper function of the roof rack system, loads must be placed directly on crossbars affixed to the roof rack side rails. Your vehicle may be equipped with factory-installed crossbars. Ford Genuine Accessory crossbars, designed specifically for your vehicle, are also recommended for use with your roof rack system.
The vehicle's roof panel is NOT designed to directly carry a load. The maximum recommended load is 100 lb (45 kg), evenly distributed on the crossbars. Ensure that the load is securely fastened.
WARNING: When loading the roof rail crossbars, it is recommended to evenly distribute the load, as well as maintain a low center of gravity. Loaded vehicles, with higher centers of gravity, may handle differently than unloaded vehicles. Extra precautions, such as slower speeds and increased stopping distance, should be taken when driving a heavily loaded vehicle.
When the rail system is loaded, check the tightness of the load before driving and at each fuel stop.
See also:
Use of inboard lower anchors from the outboard seating positions (center seating use)
The lower anchors at the center of the second row rear seat are spaced 460 mm (18 inches) apart. The standardized spacing for LATCH lower anchors is 280 mm (11 inches) center to center. A child se ...
Easy Fuel "no cap" fuel system
Your fuel tank is equipped with an Easy Fuel "no cap" fuel filler system. This allows you to simply open the fuel filler door and insert the fuel filler nozzle into the fuel system. The Easy Fuel s ...
Second generation (2003–2006)
The Navigator was updated in 2003, along with the Ford Expedition, on the new Ford U platform. The interior was also substantially revised to bring it up to the level expected by luxury buyers. So ...