Programming MyKey optional settings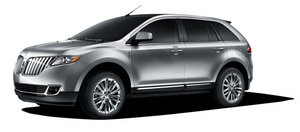 Turn the ignition on using an admin key. To program the optional settings, use the message center buttons to do the following:
1. Get into main menu, select SETTINGS then MYKEY by pressing the OK button or the right arrow button.
2. Use the up and down arrow buttons to get to any optional feature.
3. Press the right arrow button to bring up settings of each item.
4. Press OK button or right arrow button to make your choice.
See also:
Four-wheel anti-lock brake system (ABS)
Your vehicle is equipped with an anti-lock braking system (ABS). This system helps you maintain steering control during emergency stops by keeping the brakes from locking. Noise from the ABS pump ...
Traction AA A B C
The traction grades, from highest to lowest are AA, A, B, and C. The grades represent the tire's ability to stop on wet pavement as measured under controlled conditions on specified government tes ...
Turning the engine off after using remote start
• Press one time. The parking lamps will turn off. You may have to be closer to the vehicle than when starting due to ground reflection and the added noise of the running engine. You can di ...