Smart unlocks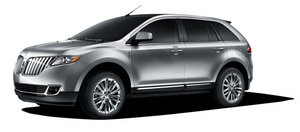 The smart unlock feature is intended to prevent you from unintentionally locking your IA key inside your vehicle's passenger compartment or rear cargo area.
When you lock your vehicle using the driver or passenger power door lock control (with the door open, vehicle in park and ignition off), after you close the door the vehicle will search for an IA key in the passenger compartment. If an IA key is found inside the vehicle, all of the doors will immediately unlock and the horn will chirp, indicating that the IA key is inside.
In order to override the smart unlock feature and intentionally lock the IA key inside the vehicle, you can lock your vehicle after all doors are closed by using your keyless entry keypad, pressing the

control on another IA key or touching the locking area on the handle with another IA key in your hand. Refer to Keyless entry system in this chapter for more information on keyless entry keypad operation.
When you open one of the front doors and you lock the vehicle using the driver or passenger power door lock control (with the vehicle not in P (Park) and the ignition off, or the ignition on), all doors will lock, then all doors will automatically unlock reminding you that the vehicle is not in P (Park) or the ignition is on.
See also:
Mykey
The MyKey feature allows you to program a restricted driving mode to promote good driving habits. All but one of the keys programmed to the vehicle can be activated as a MyKey . The key will remai ...
Aluminum wheels and wheel covers
Aluminum wheels and wheel covers are coated with a clear coat paint finish. In order to maintain their shine: • Clean weekly with Motorcraft Wheel and Tire Cleaner, which is available from your ...
Choosing the right fuel
Use only UNLEADED fuel or UNLEADED fuel blended with a maximum of 10% ethanol. Do not use fuel ethanol (E85), diesel, methanol, leaded fuel or any other fuel. The use of leaded fuel is prohibited ...