Smart unlocks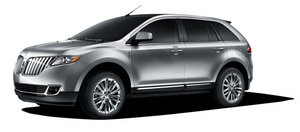 The smart unlock feature is intended to prevent you from unintentionally locking your IA key inside your vehicle's passenger compartment or rear cargo area.
When you lock your vehicle using the driver or passenger power door lock control (with the door open, vehicle in park and ignition off), after you close the door the vehicle will search for an IA key in the passenger compartment. If an IA key is found inside the vehicle, all of the doors will immediately unlock and the horn will chirp, indicating that the IA key is inside.
In order to override the smart unlock feature and intentionally lock the IA key inside the vehicle, you can lock your vehicle after all doors are closed by using your keyless entry keypad, pressing the

control on another IA key or touching the locking area on the handle with another IA key in your hand. Refer to Keyless entry system in this chapter for more information on keyless entry keypad operation.
When you open one of the front doors and you lock the vehicle using the driver or passenger power door lock control (with the vehicle not in P (Park) and the ignition off, or the ignition on), all doors will lock, then all doors will automatically unlock reminding you that the vehicle is not in P (Park) or the ignition is on.
See also:
BLIS False Alerts
Due to the nature of radar technology, there may be certain instances when the BLIS will alert with no object present in the blind zone. This is known as a false alert. Some level of false alerts ...
P (Park)
This position locks the transmission and prevents the front wheels from turning. To put your vehicle in gear: • Press the brake pedal • Move the gearshift lever into the desired gear To pu ...
Recreational towing
Follow these guidelines for your specific powertrain combination to tow your vehicle for personal travel (such as behind a motor home or a truck). Note: Put your climate control system in recir ...