Replacing the battery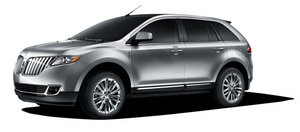 The intelligent access key (IA key) uses one coin type three-volt lithium battery CR2032 or equivalent.
To replace the battery:
1. Remove the backup key from the transmitter, then twist a thin coin in the slot hidden behind the backup key slot to remove the battery cover.
Note: Do not wipe off any grease on the battery terminals or on the back surface of the circuit board.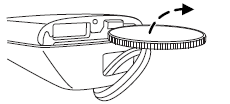 2. Remove the old battery.
Note: Please refer to local regulations when disposing of transmitter batteries.
3. Insert the new battery. Refer to the instructions inside the IA key for the correct orientation of the battery. Press the battery down to ensure that the battery is fully seated in the battery housing cavity.
4. Snap the battery cover back onto the transmitter and install the backup key.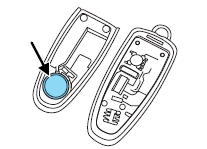 Note: Replacement of the battery will not cause the IKT or IA key to become de-programmed from your vehicle. They should operate normally after battery replacement.
See also:
Mykey
The MyKey feature allows you to program a restricted driving mode to promote good driving habits. All but one of the keys programmed to the vehicle can be activated as a MyKey . The key will remai ...
Battery
Your vehicle is equipped with a Motorcraft maintenance-free battery which normally does not require additional water during its life of service. Note: If your battery has a cover/shield, make ...
Rearview camera system (if equipped)
The rearview camera system, located on the trunk, provides a video image which appears on the navigation screen of the area behind the vehicle. It adds assistance to the driver while rever ...