Starting the engine with remote start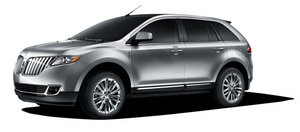 The remote start label on your transmitter details the engine starting procedure. To start the engine using remote start:
Note: Each button press must be done within three seconds of each other. If this sequence is not followed, the vehicle will not remote start and the horn will not chirp.
1. Press

to lock all the doors.
2. Press

two times. The exterior lamps will flash twice.
If for some reason, the system fails to start, the horn will chirp.
Note: If the vehicle has been remote started, you must press the START/STOP button on the instrument panel once while applying the brake pedal before driving the vehicle.
The power windows will be inhibited during the remote start and the radio will not turn on.
The parking lamps will remain on and the engine will run for 5, 10, or 15 minutes, depending on how you programmed the system. To select the duration of the remote start system refer to Message center in the Instrument Cluster chapter.
See also:
Information about uniform tire quality grading
Tire Quality Grades apply to new pneumatic passenger car tires. The Quality grades can be found where applicable on the tire sidewall between tread shoulder and maximum section width. For ...
How does the airbag supplemental restraint system work?
The airbag SRS is designed to activate when the vehicle sustains longitudinal deceleration sufficient to cause the sensors to close an electrical circuit that initiates airbag inflation. The ...
Safety Compliance Certification Label
The National Highway Traffic Safety Administration Regulations require that a Safety Compliance Certification Label be affixed to a vehicle and prescribe where the Safety Compliance Certific ...