Starting the engine with remote start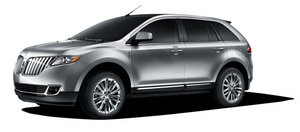 The remote start label on your transmitter details the engine starting procedure. To start the engine using remote start:
Note: Each button press must be done within three seconds of each other. If this sequence is not followed, the vehicle will not remote start and the horn will not chirp.
1. Press

to lock all the doors.
2. Press

two times. The exterior lamps will flash twice.
If for some reason, the system fails to start, the horn will chirp.
Note: If the vehicle has been remote started, you must press the START/STOP button on the instrument panel once while applying the brake pedal before driving the vehicle.
The power windows will be inhibited during the remote start and the radio will not turn on.
The parking lamps will remain on and the engine will run for 5, 10, or 15 minutes, depending on how you programmed the system. To select the duration of the remote start system refer to Message center in the Instrument Cluster chapter.
See also:
Fuses
If electrical components in the vehicle are not working, a fuse may have blown. Blown fuses are identified by a broken wire within the fuse. Check the appropriate fuses before replacing any ...
Sounding a panic alarm
Press to activate the alarm. The horn will sound and the turn lamps will flash for a maximum of three minutes. Press again or turn the ignition to the on position to deactivate, or wait for the ...
When Inflating Your Tires
When putting air into your tires (such as at a gas station or in your garage), the tire pressure monitoring system may not respond immediately to the air added to your tires. It may take up to tw ...