Unlocking and locking the doors using keyless entry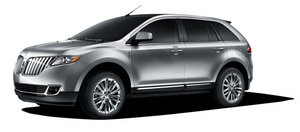 To unlock the driver's door, enter the factory set 5-digit code or your personal code. Each number must be pressed within five seconds of each other. The interior lamps will illuminate. Note: If the two-stage unlocking feature is disabled, all doors will unlock; for more information regarding two-stage unlocking, refer to the Unlocking the doors/Two stage unlock section earlier in this chapter.
To unlock all doors, enter the factory set code or your personal code, then press the 3 • 4 control within five seconds.
To lock all doors, press and hold the 7 • 8 and the 9 • 0 at the same time (with the driver's door closed). You do not need to enter the keypad code first.
To enable/disable autolock/autounlock, refer to Autolock feature or Autounlock feature earlier in this chapter.
See also:
Hitches
Do not use a hitch that clamps onto the vehicle's bumper; use a load-carrying hitch. You must distribute the load in your trailer so that 10–15% of the total weight of the trailer is on the tongue ...
Opening the power liftgate
Press twice within three seconds to fully unlatch and open the liftgate. WARNING: Make sure all persons are clear of the liftgate area before using power liftgate control. In order to fully l ...
Special operating conditions
If you operate your vehicle primarily in any of the following conditions, you need to perform additional maintenance as indicated. If you occasionally operate your vehicle under any of these con ...