Unlocking and locking the doors using keyless entry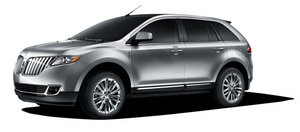 To unlock the driver's door, enter the factory set 5-digit code or your personal code. Each number must be pressed within five seconds of each other. The interior lamps will illuminate. Note: If the two-stage unlocking feature is disabled, all doors will unlock; for more information regarding two-stage unlocking, refer to the Unlocking the doors/Two stage unlock section earlier in this chapter.
To unlock all doors, enter the factory set code or your personal code, then press the 3 • 4 control within five seconds.
To lock all doors, press and hold the 7 • 8 and the 9 • 0 at the same time (with the driver's door closed). You do not need to enter the keypad code first.
To enable/disable autolock/autounlock, refer to Autolock feature or Autounlock feature earlier in this chapter.
See also:
Connecting the jumper cables
Note: In the illustration, the vehicle on the bottom is used to designate the assisting (boosting) battery. 1. Connect the positive (+) jumper cable to the positive (+) terminal of the disc ...
Front crash severity sensor
The front crash severity sensor enhances the ability to detect the severity of an impact. Positioned up front, it provides valuable information early in the crash event on the severity of the impa ...
Treadwear
The treadwear grade is a comparative rating based on the wear rate of the tire when tested under controlled conditions on a specified government test course. For example, a tire graded 150 would w ...