Folding down the 60/40 rear seats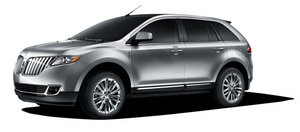 Note: The head restraints should be placed in the full down position before folding the seatback down.
Note: Ensure that no objects such as books, purses, or briefcases are on the floor in front of, on or under the second row seat cushion before actuating the release lever to cycle the seats to the load-floor position.
WARNING: To prevent possible damage to the seat or safety belts, ensure that the safety belts are not buckled when moving the seat to the load floor position.
2nd row manual folding seat
To fold down the rear seat, pull up on the lever on the outboard side of the seat cushion and let the seatback rotate downward into the load floor position.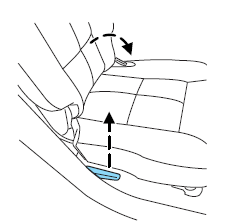 2nd row EasyFold™ seatback release (if equipped)
WARNING: Ensure that the seat is unoccupied when folding it down. Folding the seat while occupied could result in damage to the seat or injury.
Note: The power feature is operational when the vehicle is in park and the liftgate has been open for less than 10 minutes.
The control buttons are located on the left-hand rear quarter trim panel (accessible from the liftgate area).
Press and hold the control mechanism to lower the seatback.
The top portion lowers the right (40%) seatback, and the bottom portion lowers the left (60%) seatback.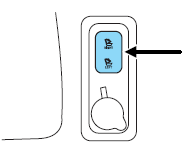 Returning the 2nd row seatback to the upright position
WARNING: Before returning the seatback to its original position, make sure that cargo or any objects are not trapped behind the seatback. After returning the seatback to its original position, pull on the seatback to ensure that the latches are engaged.
An unlatched seat may become dangerous in the event of a sudden stop or collision.
Rotate the seatback upward until the seatback latches in the upright position. The seatback will click when it is locked into position.
See also:
Power door unlock/lock procedure
Before starting, ensure the ignition is in the off position and all vehicle doors are closed. You must complete Steps 1–5 within 30 seconds or the procedure will have to be repeated. If the proced ...
Fuel filter
Your vehicle is equipped with a lifetime fuel filter that is integrated with the fuel tank. Regular maintenance or replacement is not needed. ...
Measuring techniques
Your best source of information about actual fuel economy is you, the driver. You must gather information as accurately and consistently as possible. Fuel expense, frequency of fill-ups or fuel ga ...