Tire wear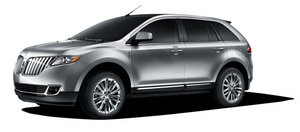 When the tread is worn down to 1/16th of an inch (2 mm), tires must be replaced to help prevent your vehicle from skidding and hydroplaning. Built-in treadwear indicators, or "wear bars", which look like narrow strips of smooth rubber across the tread will appear on the tire when the tread is worn down to 1/16th of an inch (2 mm).
When the tire tread wears down to the same height as these "wear bars", the tire is worn out and must be replaced.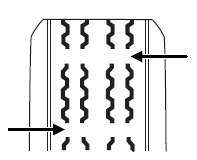 See also:
Wrecker towing
If you need to have your vehicle towed, contact a professional towing service or, if you are a member of a roadside assistance program, your roadside assistance service provider. It is recomm ...
Armrest pass-through
Pull down the door located in back of the armrest in order to store cargo of a longer length such as skis or lumber. Note: Do not exceed 80 lb (36 kg) of weight on the pass-through door. ...
How to use the automatic locking mode
1. Buckle the combination lap and shoulder belt. 2. Grasp the shoulder portion and pull downward until the entire belt is pulled out. • Allow the belt to retract. As the belt retracts, you ...