AM/FM Radio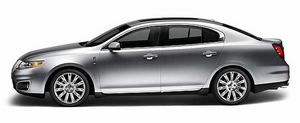 / VOL (Power/Volume): Press to turn the radio on/off. Turn the knob to increase/decrease volume.
If the volume is set above a certain level and the ignition is turned off, the volume will come back on at a nominal listening level when the ignition is turned back on.
AM/FM: Press repeatedly to select AM/FM1/FM2 frequency band.
TUNE: Turn the knob to go up/down the frequency band in individual increments.
DIRECT: Press DIRECT and then select the desired radio frequency (i.e. 93.9) using the memory preset numbers (0Ц9).
SEEK: Press

SEEK

to access the previous/next strong radio station.
SCAN: Press for a brief sampling of all strong radio stations.
MEMORY PRESETS (0Ц9): When tuned to any station, press and hold a preset button until sound returns and PRESET # SAVED appears in the display. You can save up to 30 stations, 10 in AM, 10 in FM1 and FM2.
Saving presets automatically: Autoset allows you to set the strongest local radio stations without losing your original manually set preset stations for AM/FM1/FM2.
To activate the autoset feature: Press MENU repeatedly until AUTO PRESET ON/OFF appears in the display. Use

SEEK

to switch AUTO PRESET to ON, and either wait five seconds for the search to initiate or press OK to immediately initiate the search. If you press another control within those five seconds, the search will not initiate.
The 10 strongest stations will be filled and the station stored in preset 1 will begin playing.
If there are fewer then 10 strong stations, the system will store the last one in the remaining presets.
See also:
Running out of fuel
Avoid running out of fuel because this situation may have an adverse effect on powertrain components. If you have run out of fuel: Х You may need to cycle the ignition from off to on several t ...
Checking the engine oil
Refer to the scheduled maintenance information for the appropriate intervals for checking the engine oil. 1. Make sure the vehicle is on level ground. 2. Turn the engine off and wait 15 minutes ...
The better business bureau (BBB) auto line program (U.S. Only)
Your satisfaction is important to Ford Motor Company and to your dealer. If a warranty concern has not been resolved using the three-step procedure outlined earlier in this chapter in the Getting ...