Tire and wheel alignment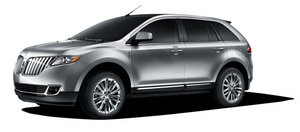 A bad jolt from hitting a curb or pothole can cause the front end of your vehicle to become misaligned or cause damage to your tires. If your vehicle seems to pull to one side when you're driving, the wheels may be out of alignment. Have an authorized dealer check the wheel alignment periodically.
Wheel misalignment in the front or the rear can cause uneven and rapid treadwear of your tires and should be corrected by an authorized dealer.
Front-wheel drive (FWD) vehicles and those with an independent rear suspension (if equipped) may require alignment of all four wheels.
The tires should also be balanced periodically. An unbalanced tire and wheel assembly may result in irregular tire wear.
See also:
Jump starting
1. Start the engine of the booster vehicle and run the engine at moderately increased speed. 2. Start the engine of the disabled vehicle. 3. Once the disabled vehicle has been started, run both ...
If your vehicle goes off the edge of the pavement
• If your vehicle goes off the edge of the pavement, slow down, but avoid severe brake application, ease the vehicle back onto the pavement only after reducing your speed. Do not turn the steering ...
Safety Compliance Certification Label
Safety Compliance Certification Label The National Highway Traffic Safety Administration Regulations require that a Safety Compliance Certification Label be affixed to a vehicle and prescri ...