Tire rotation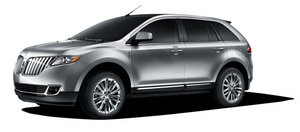 Rotating your tires at the recommended interval (as indicated in the Scheduled Maintenance chapter) will help your tires wear more evenly, providing better tire performance and longer tire life.
• Front-wheel drive (FWD)/All-wheel drive (AWD) vehicles (front tires at top of diagram)

Sometimes irregular tire wear can be corrected by rotating the tires.
Note: If your tires show uneven wear ask an authorized dealer to check for and correct any wheel misalignment, tire imbalance or mechanical problem involved before tire rotation.
Note: Your vehicle may be equipped with a dissimilar spare tire/wheel. A dissimilar spare tire/wheel is defined as a spare tire and/or wheel that is different in brand, size or appearance from the road tires and wheels. If you have a dissimilar spare tire/wheel it is intended for temporary use only and should not be used in a tire rotation.
Note: After having your tires rotated, inflation pressure must be checked and adjusted to the vehicle requirements.
See also:
If your vehicle gets stuck in mud or snow
Note: Do not rock the vehicle if the engine is not at normal operating temperature or damage to the transmission may occur. Note: Do not rock the vehicle for more than a minute or damage to the ...
Camera- and Radar-Based Driving Aids
The new Lincoln MKZ offers the Lane Keeping System, a suite of advanced driving aids that helps drivers avoid drifting from their lane due to distraction or fatigue. Consisting of Lane Keeping Aid ...
2011 Lincoln MKZ Hybrid Review
The 2011 Lincoln MKZ Hybrid doesn't scream hybrid. It's not subscribing to any earthmobile movement in any other way than its hybridness, and that's fine, because if you want your hybrid to procla ...