Information on "T" type tires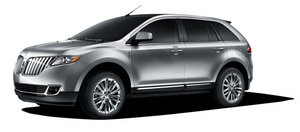 "T" type tires have some additional information beyond those of "P" type tires; these differences are described below:
T145/80D16 is an example of a tire size.
Note: The temporary tire size for your vehicle may be different from this example. Tire Quality Grades do not apply to this type of tire.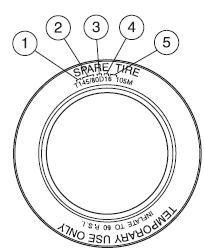 1. T: Indicates a type of tire, designated by the Tire and Rim Association (T&RA), that is intended for temporary service on cars, SUVs, minivans and light trucks.
2. 145: Indicates the nominal width of the tire in millimeters from sidewall edge to sidewall edge. In general, the larger the number, the wider the tire.
3. 80: Indicates the aspect ratio which gives the tire's ratio of height to width. Numbers of 70 or lower indicate a short sidewall.
4. D: Indicates a "diagonal" type tire.
R: Indicates a "radial" type tire.
5. 16: Indicates the wheel or rim diameter in inches. If you change your wheel size, you will have to purchase new tires to match the new wheel diameter.
See also:
Personal safety system™
The Personal Safety System provides an improved overall level of frontal crash protection to front seat occupants and is designed to help further reduce the risk of airbag-related injuries. The sy ...
Motorcraft part numbers
Refer to scheduled maintenance information for the appropriate intervals for changing the spark plugs. Note: Replace the spark plugs with ones that meet Ford material and design specificati ...
Check MyKey system status
The vehicle system check will provide the status of the following MyKey parameters: • MYKEY MILES — This odometer only tracks mileage when a MyKey is used. If mileage does not accumulate as e ...