Information on "T" type tires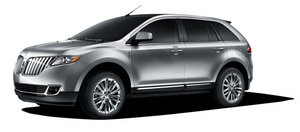 "T" type tires have some additional information beyond those of "P" type tires; these differences are described below:
T145/80D16 is an example of a tire size.
Note: The temporary tire size for your vehicle may be different from this example. Tire Quality Grades do not apply to this type of tire.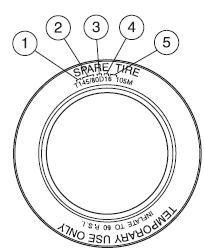 1. T: Indicates a type of tire, designated by the Tire and Rim Association (T&RA), that is intended for temporary service on cars, SUVs, minivans and light trucks.
2. 145: Indicates the nominal width of the tire in millimeters from sidewall edge to sidewall edge. In general, the larger the number, the wider the tire.
3. 80: Indicates the aspect ratio which gives the tire's ratio of height to width. Numbers of 70 or lower indicate a short sidewall.
4. D: Indicates a "diagonal" type tire.
R: Indicates a "radial" type tire.
5. 16: Indicates the wheel or rim diameter in inches. If you change your wheel size, you will have to purchase new tires to match the new wheel diameter.
See also:
Protecting your investment
Maintenance is an investment that will pay dividends in the form of improved reliability, durability and resale value. To ensure the proper performance of your vehicle and its emission control sys ...
Starting your vehicle
This system meets all Canadian interference-causing equipment standard requirements regulating the impulse electrical field strength of radio noise. Don't press the accelerator before or during ...
Removing the jumper cables
Remove the jumper cables in the reverse order that they were connected. Note: In the illustration, the vehicle on the bottom is used to designate the assisting (boosting) battery. 1. Remove th ...