Trailer lamps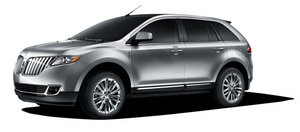 Trailer lamps are required on most towed vehicles. Make sure all running lights, brake lights, turn signals and hazard lights are working.
Do not splice into the vehicle lamp wiring for trailer lamps. Your vehicle uses an advanced electronic module to control and monitor your vehicle lamps. Splicing into the wiring or attaching wiring to the vehicle bulb may DISABLE the rear vehicle lamps or cause them not to function properly. Your lamp outage feature may also be disabled or provide incorrect information.
See also:
How does the safety belt pretensioner and airbag supplemental restraint system work?
The safety belt pretensioner and airbag SRS are designed to activate when the vehicle sustains longitudinal deceleration sufficient to cause the sensors to close an electrical circuit that ...
Checking automatic transmission fluid
Refer to your scheduled maintenance information for scheduled intervals for fluid checks and changes. Your transmission does not consume fluid. However, the fluid level should be checked if the ...
Vehicle storage
If you plan on storing your vehicle for an extended period of time (30 days or more), refer to the following maintenance recommendations to ensure your vehicle stays in good operating condition. ...