Trailer towing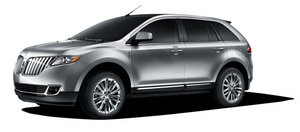 Trailer towing with your vehicle may require the use of a trailer tow option package.
Trailer towing puts additional loads on your vehicle's engine, transmission, axle, brakes, tires and suspension. For your safety and to maximize vehicle performance, be sure to use the proper equipment while towing.
Follow these guidelines to ensure safe towing:
• Do not tow a trailer until your vehicle has been driven at least 1,000 miles (1,600 km).
• Consult your local motor vehicle laws for towing a trailer.
• Refer to the instructions included with towing accessories for the proper installation and adjustment specifications.
• Thoroughly prepare your vehicle for towing. Refer to Preparing to tow in this chapter.
• Stay within your vehicle's load limits.
• Use extra caution when driving while trailer towing. Refer to Driving while you tow in this chapter.
• Service your vehicle more frequently if you tow a trailer. Refer to Special operating conditions in your scheduled maintenance.
For load specification terms found on the label and instructions on calculating your vehicle's load, refer to Vehicle loading - with and without a trailer in this chapter. Remember to figure in the tongue load of your loaded vehicle when figuring the total weight.
WARNING: Do not exceed the GVWR or the GAWR specified on the certification label.
WARNING: Towing trailers beyond the maximum recommended gross trailer weight exceeds the limit of the vehicle and could result in engine damage, transmission damage, structural damage, loss of vehicle control, vehicle rollover and personal injury.

Preparing to tow
Use the proper equipment for towing a trailer and make sure it is properly attached to your vehicle. Contact your authorized dealer or a reliable trailer dealer as soon as possible if you require assistance.
See also:
Jump starting
1. Start the engine of the booster vehicle and run the engine at moderately increased speed. 2. Start the engine of the disabled vehicle. 3. Once the disabled vehicle has been started, run both ...
SENSE AND STYLE
Family Friendly (Not Really, Fair, Great, Excellent): Fair Fun-Factor (None, Some, Good Times, Groove-On): None ...
Calculating fuel economy
1. Fill the fuel tank completely and record the initial odometer reading (in miles or kilometers). 2. Each time you fill the tank, record the amount of fuel added (in gallons or liters). 3. Af ...