Brake over accelerator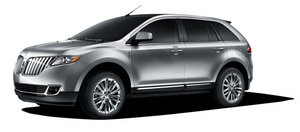 This vehicle is equipped with a brake over accelerator feature. In the event the accelerator pedal becomes stuck or entrapped, applying steady and firm pressure to the brake pedal will both slow the vehicle and reduce engine power. If you experience this condition, apply the brakes and bring your vehicle to a safe stop. Turn the engine off, shift to P (Park) and apply the parking brake, and then inspect the accelerator pedal for any interferences. If none are found and the condition persists, have your vehicle towed to the nearest authorized dealer.
See also:
Low fluid level
Do not drive the vehicle if the fluid level does not show at all on the dipstick. Driving the vehicle with less than the recommended fluid level may result in transmission failure. An under ...
Vehicle loading – with and without a trailer
This section will guide you in the proper loading of your vehicle and/or trailer, to keep your loaded vehicle weight within its design rating capability, with or without a trailer. Properly loadin ...
Roof rack system (if equipped)
Loads should never be placed directly on the roof panel. For proper function of the roof rack system, loads must be placed directly on crossbars affixed to the roof rack side rails. Your vehicle m ...