Brake over accelerator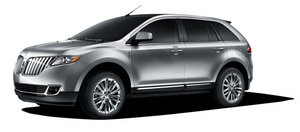 This vehicle is equipped with a brake over accelerator feature. In the event the accelerator pedal becomes stuck or entrapped, applying steady and firm pressure to the brake pedal will both slow the vehicle and reduce engine power. If you experience this condition, apply the brakes and bring your vehicle to a safe stop. Turn the engine off, shift to P (Park) and apply the parking brake, and then inspect the accelerator pedal for any interferences. If none are found and the condition persists, have your vehicle towed to the nearest authorized dealer.
See also:
Real-time damping
Compared with the fixed-rate dampers fitted to the 2012 MKS, the new CCD dampers for the 2013 MKS offer dramatically expanded control range. CCD utilizes an array of 46 inputs to feed data to a sop ...
HomeLink Wireless Control System
The HomeLink Wireless Control System, located on the driver's visor, provides a convenient way to replace up to three hand-held transmitters with a single built-in device. This feature will ...
Speed control
With speed control set, you can maintain a set speed without keeping your foot on the accelerator pedal. WARNING: Do not use the speed control in heavy traffic or on roads that are winding, slipp ...