Electronic stability control (ESC)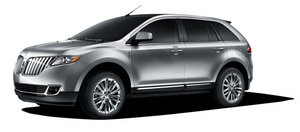 Electronic stability control (ESC) may enhance your vehicle's directional stability during adverse maneuvers, for example when cornering severely or avoiding objects in the roadway. ESC operates by applying brakes to one or more of the wheels individually and, if necessary, reducing engine power if the system detects that the vehicle is about to skid or slide laterally.
During ESC events the stability control light in the instrument cluster will flash.
Certain adverse driving maneuvers may activate the ESC system, which include but are not limited to:
• Taking a turn too fast
• Maneuvering quickly to avoid an accident, pedestrian or obstacle
• Driving over a patch of ice or other slippery surfaces
• Changing lanes on a snow-rutted road
• Entering a snow-free road from a snow-covered side street, or vice versa
• Entering a paved road from a gravel road, or vice versa
• Cornering while towing a heavily loaded trailer (refer to Trailer towing in the Tires, Wheels and Loading chapter).
The electronic stability control system may be deactivated in certain situations. See the Switching off AdvanceTrac with RSC section following.
See also:
Anti-scan feature
If the wrong code has been entered seven times (35 consecutive button presses), the keypad will go into an anti-scan mode. This mode disables the keypad for one minute and the keypad lamp will fla ...
Vehicles sold in Canada : Getting roadside assistance
Canadian customers who require roadside assistance, call 1–800–665–2006. ...
Engine
Engines are more efficient when they are clean because grease and dirt buildup keep the engine warmer than normal. When washing: • Take care when using a power washer to clean the engine. The h ...