Switching off AdvanceTrac with RSC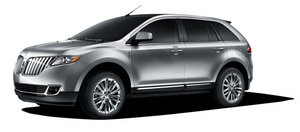 If the vehicle is stuck in snow, mud or sand, and seems to lose engine power, switching off certain features of the AdvanceTrac with RSC system may be beneficial because the wheels are allowed to spin. This will restore full engine power and will enhance momentum through the obstacle.
To switch off the traction control system, select traction control off in the message center. Full features of the AdvanceTrac with RSC system can be restored by selecting traction control on, or by turning off and restarting the engine.
If you switch off the traction control system, the stability control off light will illuminate steadily. Selecting traction control on will turn off the stability control light.

In R (Reverse), ABS and the engine traction control and brake traction control features will continue to function. However, ESC and RSC are disabled.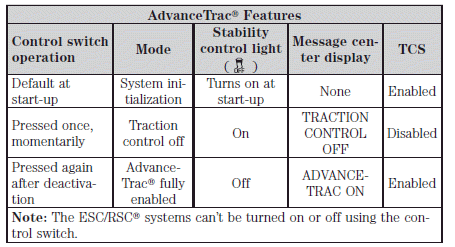 See also:
FCC and RSS-210 Industry Canada Compliance
This device complies with Part 15 of the FCC Rules and with RSS-210 of Industry Canada. Operation is subject to the following two conditions: (1) this device may not cause harmful interference, and ...
First generation (1998–2002)
The 1998 Navigator introduced the concept of the American luxury SUV, competing at first with only the Land Rover Range Rover. It was trimmed with leather, wood, and fine carpeting, but its humble ...
Hitches
Do not use a hitch that clamps onto the vehicle's bumper; use a load-carrying hitch. You must distribute the load in your trailer so that 10–15% of the total weight of the trailer is on the tongue ...