Switching off AdvanceTrac with RSC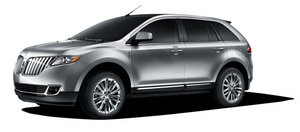 If the vehicle is stuck in snow, mud or sand, and seems to lose engine power, switching off certain features of the AdvanceTrac with RSC system may be beneficial because the wheels are allowed to spin. This will restore full engine power and will enhance momentum through the obstacle.
To switch off the traction control system, select traction control off in the message center. Full features of the AdvanceTrac with RSC system can be restored by selecting traction control on, or by turning off and restarting the engine.
If you switch off the traction control system, the stability control off light will illuminate steadily. Selecting traction control on will turn off the stability control light.

In R (Reverse), ABS and the engine traction control and brake traction control features will continue to function. However, ESC and RSC are disabled.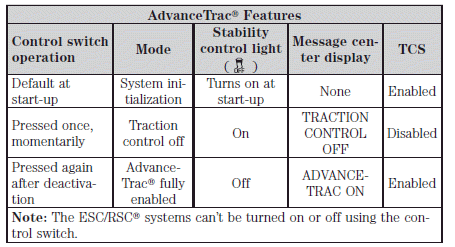 See also:
Disengaging adaptive cruise control
Press the brake pedal or press CNCL to disengage the adaptive cruise control. The last set speed will be displayed with a strikethrough. Disengaging the adaptive cruise control will not erase you ...
Protecting Your Investment
Maintenance is an investment that will pay dividends in the form of improved reliability, durability and resale value. To maintain the proper performance of your vehicle and its emission control s ...