Switching off AdvanceTrac with RSC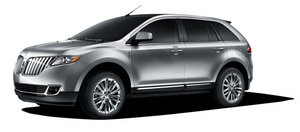 If the vehicle is stuck in snow, mud or sand, and seems to lose engine power, switching off certain features of the AdvanceTrac with RSC system may be beneficial because the wheels are allowed to spin. This will restore full engine power and will enhance momentum through the obstacle.
To switch off the traction control system, select traction control off in the message center. Full features of the AdvanceTrac with RSC system can be restored by selecting traction control on, or by turning off and restarting the engine.
If you switch off the traction control system, the stability control off light will illuminate steadily. Selecting traction control on will turn off the stability control light.

In R (Reverse), ABS and the engine traction control and brake traction control features will continue to function. However, ESC and RSC are disabled.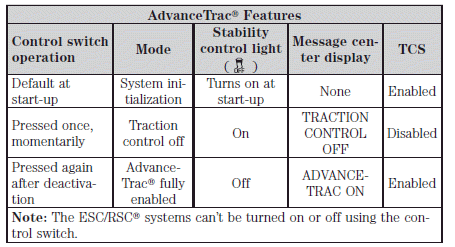 See also:
Utility hook
The utility hook can be used to hang small items such as grocery bags, etc. Do not hang more than 10 lb (4.5 kg) on the hook. ...
Recycled engine coolant
Ford Motor Company does NOT recommend the use of recycled engine coolant since a Ford-approved recycling process is not yet available. Used engine coolant should be disposed of in an appropriate ...
Obtaining a French Owner's Guide
French Owner's Guides can be obtained from your authorized dealer or by contacting Helm, Incorporated using the contact information listed previously in this section. ...