Driving off-highway with AWD vehicles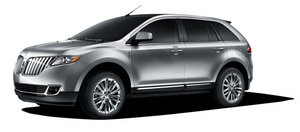 AWD vehicles are equipped for driving on sand, snow, mud and rough roads and have operating characteristics that are somewhat different from conventional vehicles, both on and off the highway.
When driving at slow speeds off-highway under high outside temperatures, use L (Low) gear when possible. L (Low) gear operation will maximize the engine and transmission cooling capability.
Under severe operating conditions, the A/C may cycle on and off to protect overheating of the engine.
Basic operating principles
Х Drive slower in strong crosswinds which can affect the normal steering characteristics of your vehicle.
Х Be extremely careful when driving on pavement made slippery by loose sand, water, gravel, snow or ice.
If your vehicle goes off the edge of the pavement
Х If your vehicle goes off the edge of the pavement, slow down, but avoid severe brake application, ease the vehicle back onto the pavement only after reducing your speed. Do not turn the steering wheel too sharply while returning to the road surface.
Х It may be safer to stay on the apron or shoulder of the road and slow down gradually before returning to the pavement. You may lose control if you do not slow down or if you turn the steering wheel too sharply or abruptly.
Х It often may be less risky to strike small objects, such as highway reflectors, with minor damage to your vehicle rather than attempt a sudden return to the pavement which could cause the vehicle to slide sideways out of control or rollover. Remember, your safety and the safety of others should be your primary concern.
See also:
Erasing the function button codes
Note: You cannot erase individual buttons. 1. Press and hold the outer two function buttons simultaneously for approximately 20 seconds until the LED lamps above the buttons flash rapid ...
All-wheel drive (awd) system (if equipped)
Your vehicle may be equipped with a full-time all-wheel drive (AWD) system. The AWD system is an active system, meaning it not only responds to wheel slip between the front and rear axles but also ...
Dissimilar spare tire/wheel information
WARNING: Failure to follow these guidelines could result in an increased risk of loss of vehicle control, injury or death. If you have a dissimilar spare tire/wheel, then it is intended for tempo ...