Driving off-highway with AWD vehicles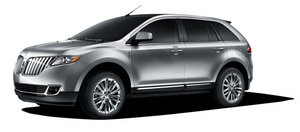 AWD vehicles are equipped for driving on sand, snow, mud and rough roads and have operating characteristics that are somewhat different from conventional vehicles, both on and off the highway.
When driving at slow speeds off-highway under high outside temperatures, use L (Low) gear when possible. L (Low) gear operation will maximize the engine and transmission cooling capability.
Under severe operating conditions, the A/C may cycle on and off to protect overheating of the engine.
Basic operating principles
• Drive slower in strong crosswinds which can affect the normal steering characteristics of your vehicle.
• Be extremely careful when driving on pavement made slippery by loose sand, water, gravel, snow or ice.
If your vehicle goes off the edge of the pavement
• If your vehicle goes off the edge of the pavement, slow down, but avoid severe brake application, ease the vehicle back onto the pavement only after reducing your speed. Do not turn the steering wheel too sharply while returning to the road surface.
• It may be safer to stay on the apron or shoulder of the road and slow down gradually before returning to the pavement. You may lose control if you do not slow down or if you turn the steering wheel too sharply or abruptly.
• It often may be less risky to strike small objects, such as highway reflectors, with minor damage to your vehicle rather than attempt a sudden return to the pavement which could cause the vehicle to slide sideways out of control or rollover. Remember, your safety and the safety of others should be your primary concern.
See also:
Four-wheel anti-lock brake system (ABS)
Your vehicle is equipped with an anti-lock braking system (ABS). This system helps you maintain steering control during emergency stops by keeping the brakes from locking. Noise from the ABS pump ...
Paint chips
Your authorized dealer has touch-up paint to match your vehicle's color. Take your color code (printed on a sticker in the driver's door jamb) to your authorized dealer to ensure you get the corr ...
Fuel filter
Your vehicle is equipped with a lifetime fuel filter that is integrated with the fuel tank. Regular maintenance or replacement is not needed. ...