Sand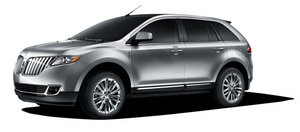 When driving over sand, try to keep all four wheels on the most solid area of the trail. Avoid reducing the tire pressures but shift to a lower gear and drive steadily through the terrain. Apply the accelerator slowly and avoid spinning the wheels.
Do not drive your AWD vehicle in deep sand for an extended period of time. This will cause the AWD system to overheat. If the rear tires stop spinning while the front tires spin in deep sand, turn off the vehicle and allow the AWD system to cool down for a minimum of 15 minutes. After the system has cooled down, normal AWD function will return. When driving at slow speeds in deep sand under high outside temperatures, use L (Low) gear when possible. L (Low) gear operation will maximize the engine and transmission cooling capability.
Under severe operating conditions, the A/C may cycle on and off to protect overheating of the engine.
Avoid excessive speed because vehicle momentum can work against you and cause the vehicle to become stuck to the point that assistance may be required from another vehicle. Remember, you may be able to back out the way you came if you proceed with caution.
See also:
The Bling Factor
The dumbest question an automotive journalist could pose in regard to the new Lincoln Navigator would be, "What do you notice first when looking at it?" Duh! It might as well be called t ...
Tire pressure monitoring system (TPMS)
Each tire, including the spare (if provided), should be checked monthly when cold and inflated to the inflation pressure recommended by the vehicle manufacturer on the vehicle placard or tir ...
Lifestyle
•Ash cup / smoker's package •Roof racks and carriers* •Cargo net •Navigation* •Cargo organization and management ...