Sand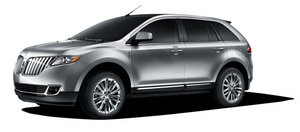 When driving over sand, try to keep all four wheels on the most solid area of the trail. Avoid reducing the tire pressures but shift to a lower gear and drive steadily through the terrain. Apply the accelerator slowly and avoid spinning the wheels.
Do not drive your AWD vehicle in deep sand for an extended period of time. This will cause the AWD system to overheat. If the rear tires stop spinning while the front tires spin in deep sand, turn off the vehicle and allow the AWD system to cool down for a minimum of 15 minutes. After the system has cooled down, normal AWD function will return. When driving at slow speeds in deep sand under high outside temperatures, use L (Low) gear when possible. L (Low) gear operation will maximize the engine and transmission cooling capability.
Under severe operating conditions, the A/C may cycle on and off to protect overheating of the engine.
Avoid excessive speed because vehicle momentum can work against you and cause the vehicle to become stuck to the point that assistance may be required from another vehicle. Remember, you may be able to back out the way you came if you proceed with caution.
See also:
How Temperature Affects Your Tire Pressure
The tire pressure monitoring system (TPMS) monitors tire pressure in each pneumatic tire. While driving in a normal manner, a typical passenger tire inflation pressure may increase approximately 2 ...
Event Data Recording
This vehicle is equipped with an event data recorder (EDR). The main purpose of an EDR is to record, in certain crash or near crash-like situations, such as an airbag deployment or hitting a roa ...
Satellite Radio
Satellite radio is available only with a valid SIRIUS radio subscription. Check with your authorized dealer for availability. SIRIUS: Press repeatedly to access satellite radio mode, if equipped. ...