Fuel pump shut-off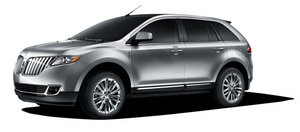 In the event of a moderate to severe collision, this vehicle is equipped with a fuel pump shut-off feature that stops the flow of fuel to the engine. Not every impact will cause a shut-off.
Should your vehicle shut off after a collision due to this feature, you may restart your vehicle by doing the following:
1. Turn the ignition switch to the off position.
2. Turn the ignition switch to the on position.
In some instances the vehicle may not restart the first time you try to restart and may take one additional attempt.
WARNING: Failure to inspect and if necessary repair fuel leaks after a collision may increase the risk of fire and serious injury.
Ford Motor Company recommends that the fuel system be inspected by an authorized dealer after any collision.
See also:
Touchscreen functions
Temperature– Press the arrows on the left side of the screen to increase/decrease the airflow temperature for the driver side of the vehicle. This control also adjusts the passenger side te ...
Overriding adaptive cruise control
WARNING: Whenever the driver is overriding the ACC by pressing the accelerator pedal, the ACC will not automatically apply the brakes to maintain separation from any vehicle ahead. The set speed ...
Adding engine coolant
When adding coolant, make sure it is a 50/50 mixture of engine coolant and distilled water. Add the mixture to the coolant reservoir, when the engine is cool, until the appropriate fill level is o ...