Adding engine oil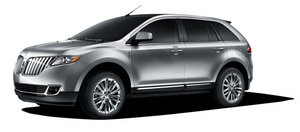 1. Check the engine oil. For instructions, refer to Checking the engine oil in this chapter.
2. If the engine oil level is not within the normal operating range, add only certified engine oil of the recommended viscosity. Remove the engine oil filler cap and use a funnel to pour the engine oil into the opening.
3. Recheck the engine oil level. Make sure the oil level is not above the normal operating range on the engine oil level dipstick.
4. Install the dipstick and ensure it is fully seated.
5. Fully install the engine oil filler cap by turning the filler cap clockwise until it stops.
To avoid possible oil loss, DO NOT operate the vehicle with the engine oil level dipstick and/or the engine oil filler cap removed.
See also:
Steering
The Lincoln MKS steering system received a thorough makeover for 2013. The gear ratio is quicker (15:1 for 2013 vs. 17.1:1 for today's MKS), making the steering more immediately responsive at all sp ...
Cargo & Towing
The MKX's car-based construction again shows its benefit in cargo volume; body-on-frame trucks tend to have less for an equivalent exterior size. My MKX had a power liftgate, which comes in an opt ...
Retractable Panoramic Roof
The Retractable Panoramic Roof is a new signature feature for Lincoln. The 15.2-square-foot glass panel offers one of the largest openings available on any current sedan. The design maintains the ...